The hottest new wedding trend is actually not new at all!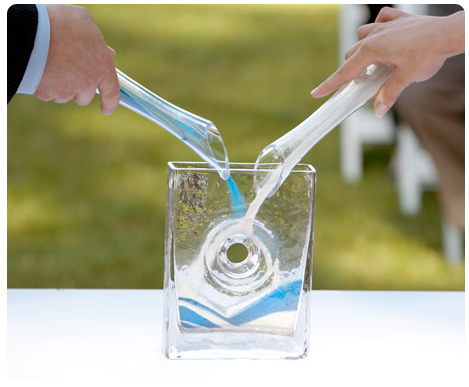 A Popular Alternative to the Unity Candle Ceremony: Unity Sand Ceremony

A Unity Sand Ceremony, much like the Unity Candle Ceremony, symbolizes the meaningful joining of two lives. It involves two or more containers of different sand colors representing the lives of the bride and groom. Both hold their respective containers and together pour the sand into a third container symbolizing their becoming 'united'. The flattering glassware is often engraved with customizable initials or names creating a cherished relic or keepsake for display in the couple's home.

Additional colors of sand can be used by the officiant, children or parents of the bride and groom.

Types of Unity Ceremonies

There are many types of Unity Ceremonies that a wedding officiant can perform on this monumental day. Traditionally the joining of a loving couple and their families is romantically symbolized by the lighting of a Unity candle. Other cultures have performed the same ceremony using roses, wine or water.

Quickly becoming the #1 choice of lovers: Unity Sand Ceremony. Raved about for its beauty and timeless function. Accessorized with engraved vases and tasteful glassware, it's no wonder why Trista & Ryan from the hit series: The Bachelorette chose to have the colorful ceremony.