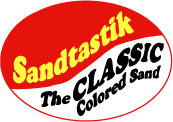 For over 25 years Sandtastik Products has continued their commitment to manufacturing the most creative, safe, amazingly colorful quality products for Schools, Therapy Offices, Hospitals, Retail Stores, Backyards and Much More!
We are VERY proud to be a part in helping your children imagine and explore in a safe and worry free environment.
But enough about us—let's talk about you.
Whether you own a retail store, are a distributor, have an online store or need a very small or extremely large amount of sand for your home or backyard, you need a company that takes care of the complicated stuff so you can focus on whatever it is you're focusing on.
So please contact us today for whatever your needs may be as we are having a Sandtastik time over here and would love to talk to you.