Sand Stenciled Journal
By Marisa Pawelko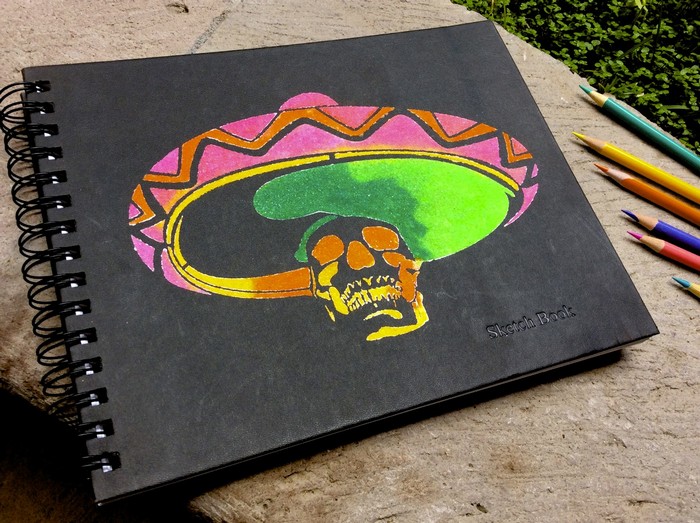 Summary:
Take an ordinary journal or sketch pad from drab to fab with Sandtastik's Colored Sand! Add three dimensional texture with your favorite stencil designs! Perfect for a quick last minute gift or back to school!
What's Needed:
Hardcover Blank Journal or Sketchpad

Acrylic Craft Paint

Stenciling Paint Brushes

Stencil (for this project we used the Calavera stencil from Stencil1)

School Glue

Masking Tape
Select the colored sand of your choice. Then choose coordinating paint colors that match the sand. If stenciling on a dark book, grab some white paint to use as a base coat.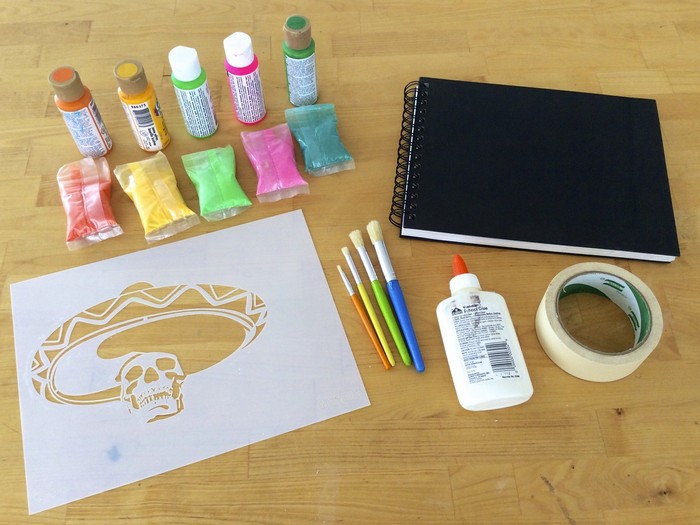 Begin by securing the stencil in place with masking tape. Make sure that the stencil lays flat.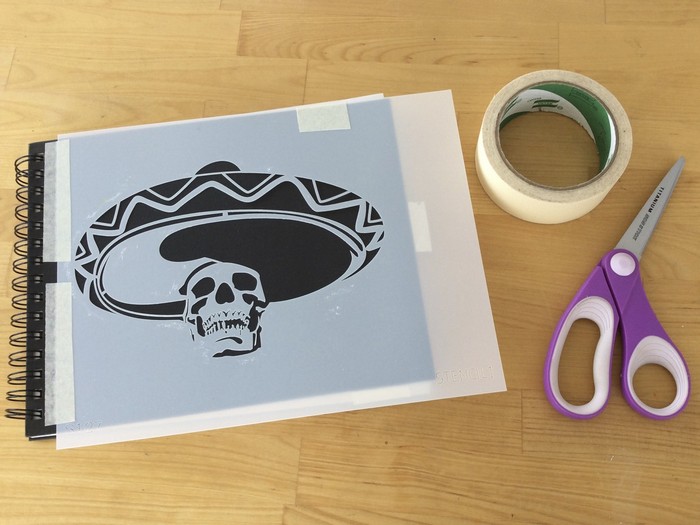 With your stenciling paintbrush, carefully "pounce" on a thin layer of white paint for the base coat, and set aside to dry. If the cover of your book is a light color, you can skip this step.
Next you are ready to begin adding the color! Paint the different areas of the stencil design with the colors of your choice.
Get creative by blending the paints to achieve an ombre effect, and set aside to dry.
Once the paint is dry you are ready to begin adding texture with the colored sand! Use the stencil brush to apply a layer of school glue over the entire stencil design.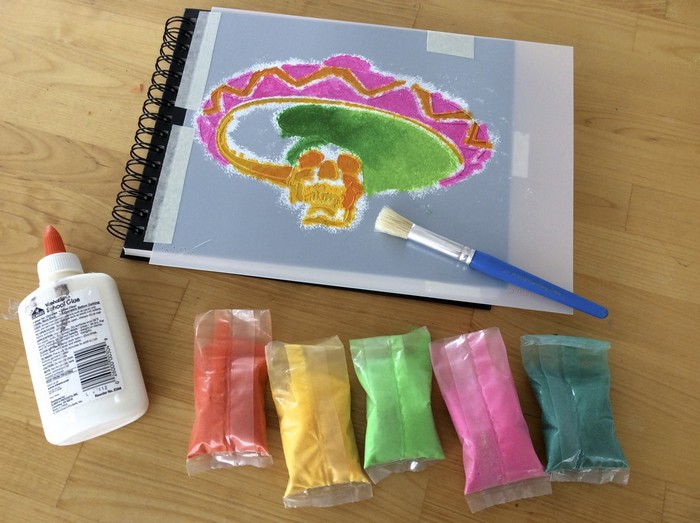 Next carefully and generously pour the sand over the coordinating colored areas. With the palms of your hands, gently press the sand down to secure it in place.
Before the glue dries, gently tip the book to remove the excess sand. You can save the excess multicolor for another creative project!
Carefully remove the masking tape and peel the stencil off the book as shown, to reveal the beautiful, sandy, stenciled design!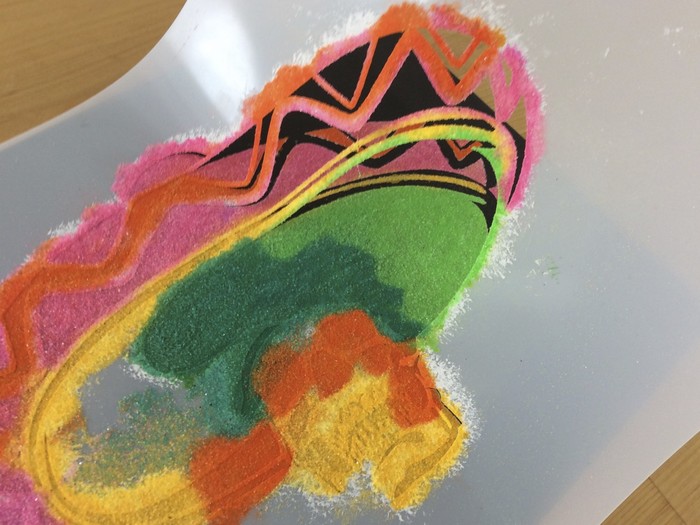 Set the piece aside to dry fully.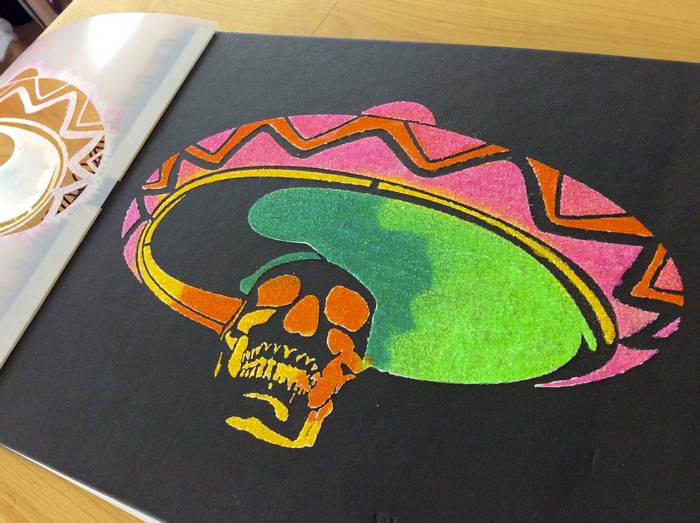 Be sure to carefully wash the stencil immediately after with a sponge and warm water.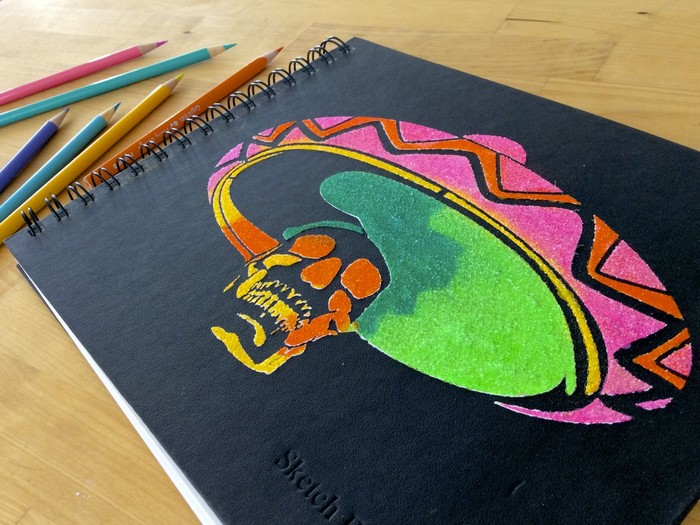 Sit back and enjoy your colorful, sandy, stenciled creation!!!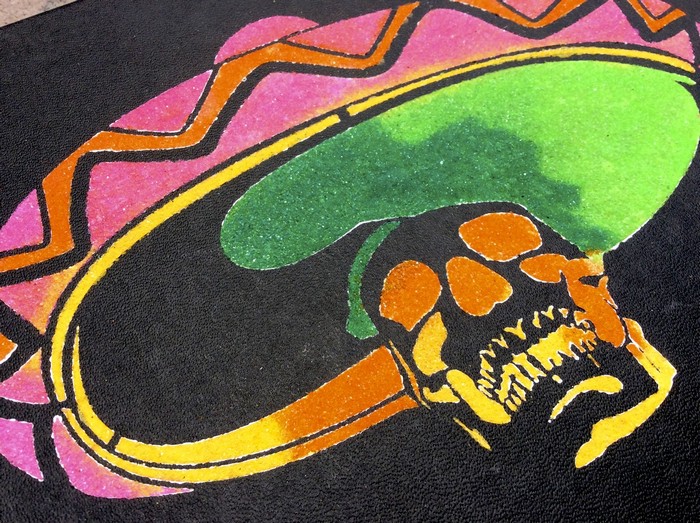 - ABOUT THE ARTIST -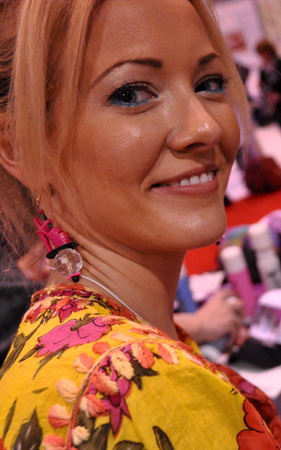 Meet celebrity crafter Marisa Pawelko, winner of the Craft & Hobby Association Indie Craft Contest and the host of "America's Next Top Crafter™". Armed with a formal education in furniture design, Marisa used her talents to design products for the gift, toy, fashion and accessories markets before turning her focus to the craft industry. In 2005, sparked with an idea to create a recycled baby memento-keeper out of one of her son's baby food jars, she founded Modern Surrealist LLC, which quickly developed an international following. Marisa enjoys inspiring crafters on her blog with thrifty project ideas for "upcycling" ordinary objects, into extraordinary custom creations! Her work has been featured by PBS, HGTV, Illinois State Museum and in countless exhibitions and high end boutiques around the world. Modern Surrealist LLC has been providing customers around the globe with individualized and fantastical gifts, crafts and accessories since 2004. Featuring eclectic themes that celebrate your individuality with humor and heart!