How to Make Round Bottle Christmas Ornaments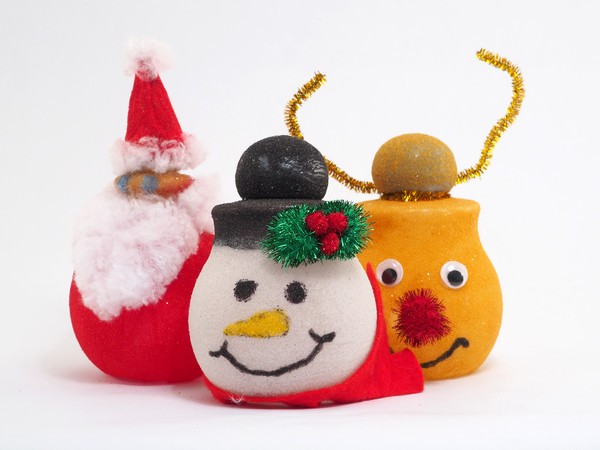 What you need:
Gathering your supplies and lay some sheets of paper on your work space to make cleaning up the sand easier. Then think of the design you'd like your ball to be, it helps if you draw it out or find a picture to use as reference before you begin.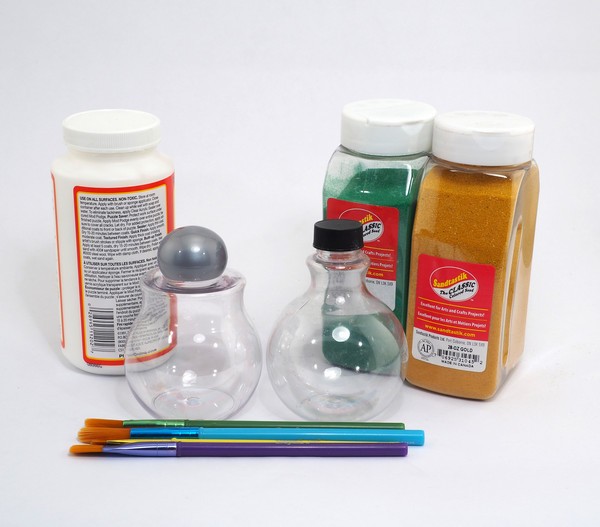 First, we will make the bottle a nice base color. Start by applying an even coat of the decoupage sealer on the entire bottle. If you are having trouble applying the coat, try doing only half the bottle first then repeating the process on the second half.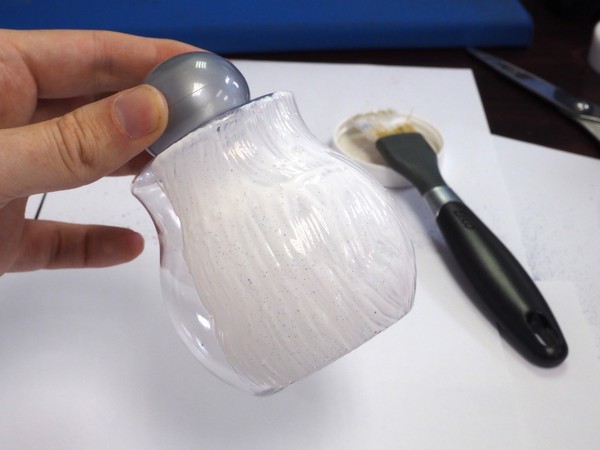 Then make you are over the paper you laid out and pour the Colored Sand of your choice over the glue. Don't worry about wasting your sand, that's what the paper is there for!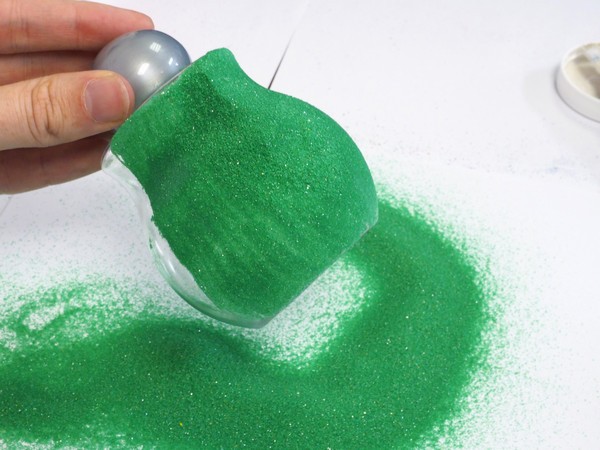 Wait a couple seconds then pour the excess sand off of your bottle. Now if you only did half of the bottle you can repeat the process until the bottle is fully covered.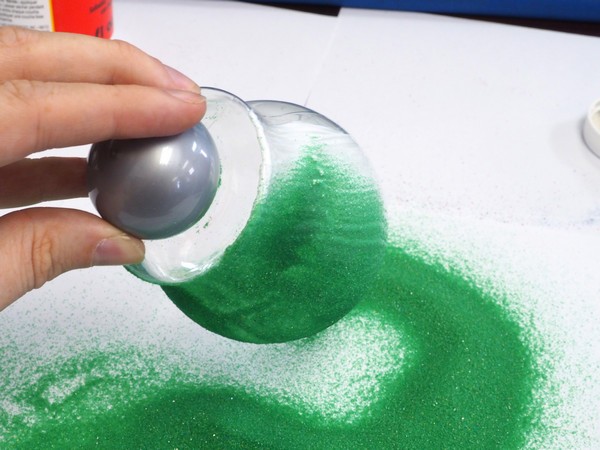 Put your bottle aside and let the glue dry for 15-20 minutes.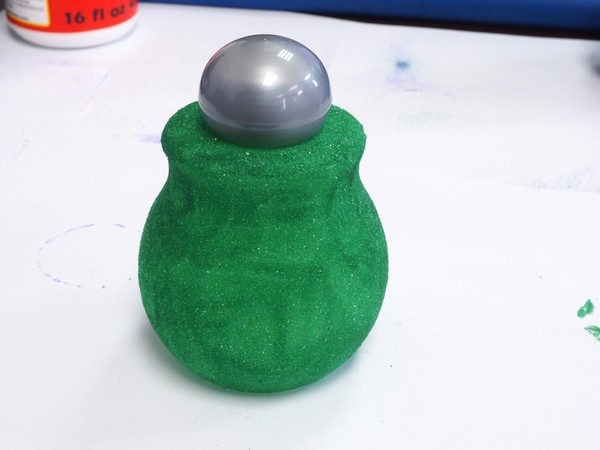 While waiting, you can clean up sand of the sand by carefully picking up the top sheet of paper and pouring it back into your bottle/bag/box so you can reuse it for more projects later.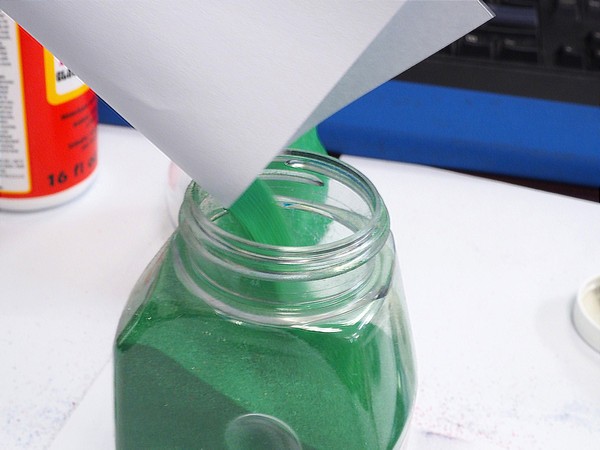 After your bottle has dried you can now add your custom designs to it. For this one I made a simple snow flake design, but feel free to do whatever you'd like. Carefully paint your design with the decoupage sealer and try to make sure the coat is thick and even. Don't worry about it being perfect, remember, every snowflake is unique.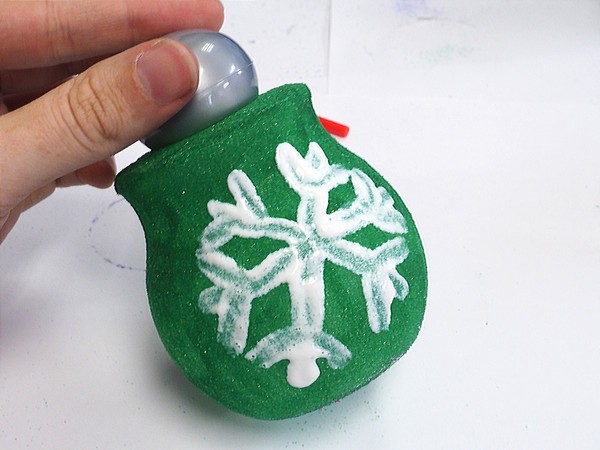 Like before just pour on the color of your choice then pour it off.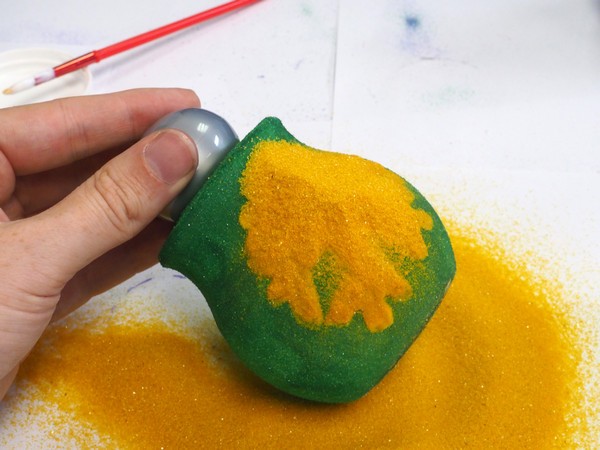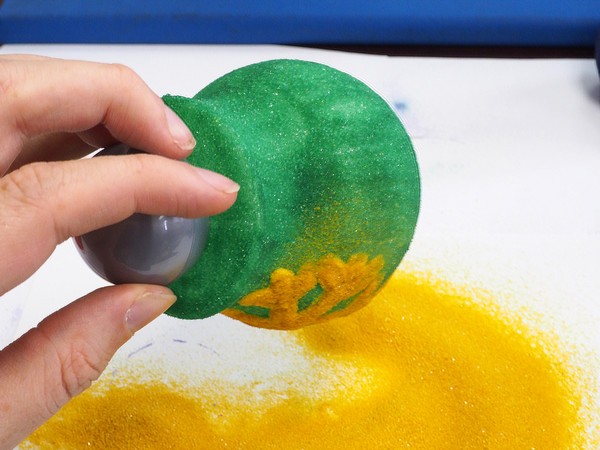 Next let your bottle dry for 15-20 minutes once again. If you'd like to add more to your bottle you can repeat the last step as many times as you like, just make sure to wait 15-20 minutes between every color/design so you don't smudge it of have sand stick where you don't want it.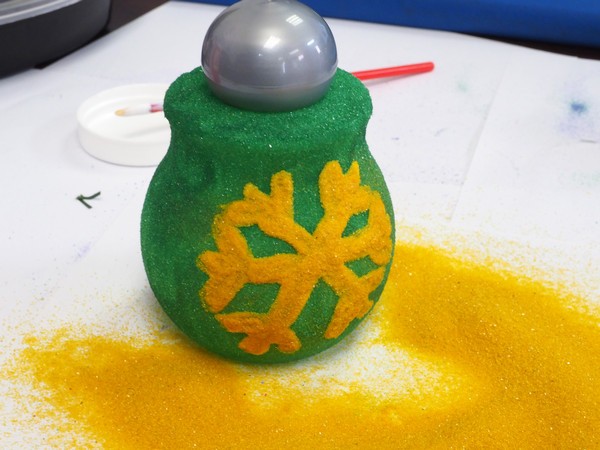 After it's dry you can lightly brush off any excess sand that's not where it should be with a dry paint brush. Then you can add any other decorations to your ornament that you would like. Now you can tie a string around to lid to hang from it your tree or place it out anywhere you'd like for display.