Overview
Make your own customized noisemakers! Experiment with different shapes and sounds by filling them with bells, rocks, beads and more!
Original Project Design by Modern Surrealist Marisa Pawelko
Shape Suggestions: Animals, Flowers, Fruits, Faces, Hearts
Supplies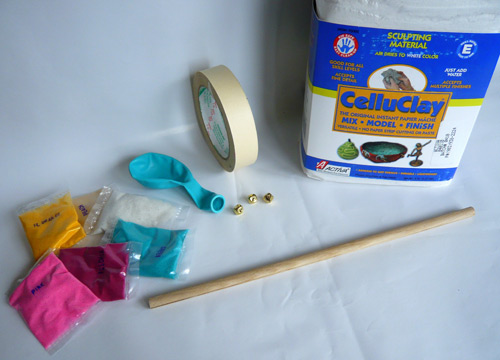 Warm Water
Balloon
Wooden Dowel
Masking Tape
3 Jingle Bells
Acrylic Paint
Paintbrush
Glue
Embellishments (seed beads, flat back gems, glitter, etc.)
Directions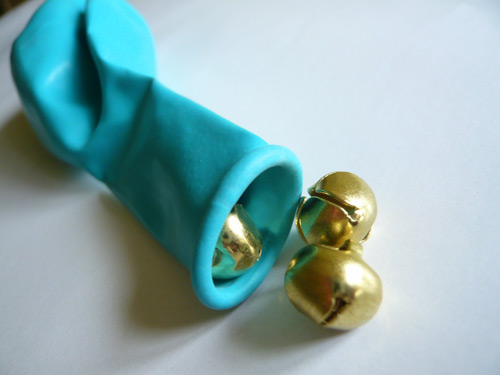 STEP 1  Insert jingle bells into balloon.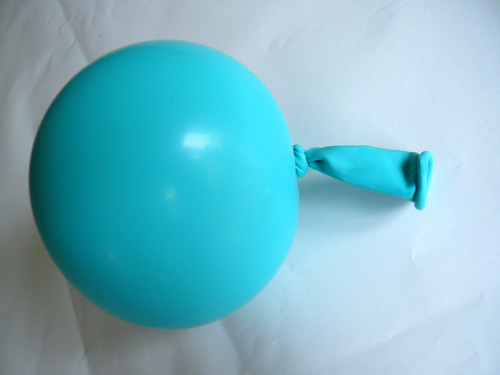 STEP 2  Inflate balloon to about 4"in diameter and tie the end in a knot.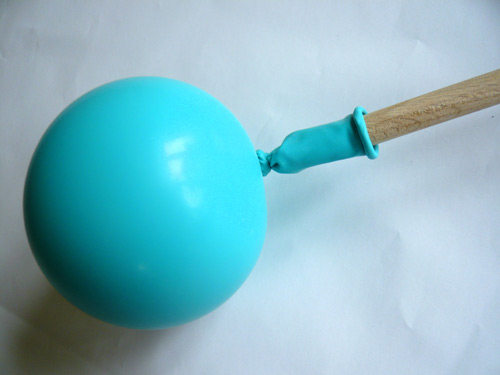 STEP 3  Place one end of the dowel into the remaining opening of the balloon.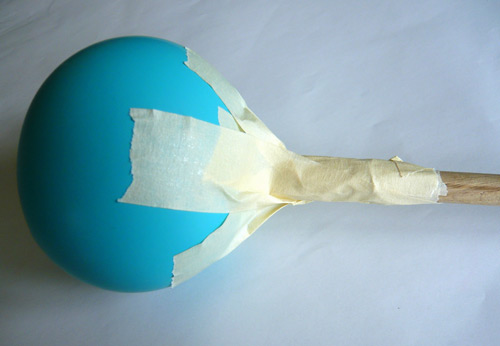 STEP 4  Secure the dowel to the balloon with masking tape.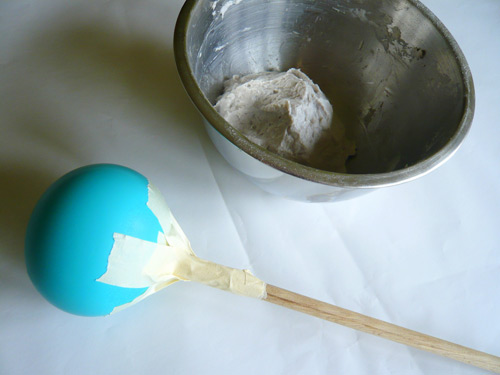 STEP 5  Mix up a batch of white CelluClay by adding warm water. To thicken add more CelluClay. To moisten add more warm water.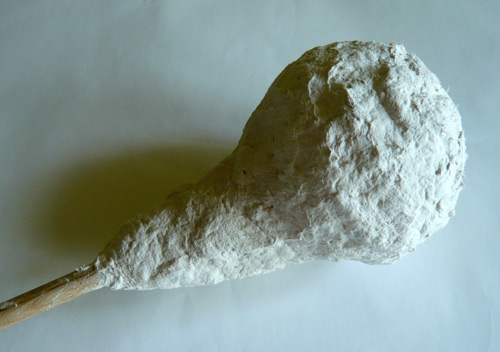 STEP 6  Carefully cover the balloon and masking tape with the CelluClay. Use your fingers to sculpt the CelluClay into the desired form being sure not to leave any gaps or holes.
Smooth the surface with moistened fingertips to achieve an even texture. Anchor the piece in an upright position and allow to dry until it is no longer cool to the touch. Depending on the thickness of your piece, it may take anywhere from one to three days to completely dry.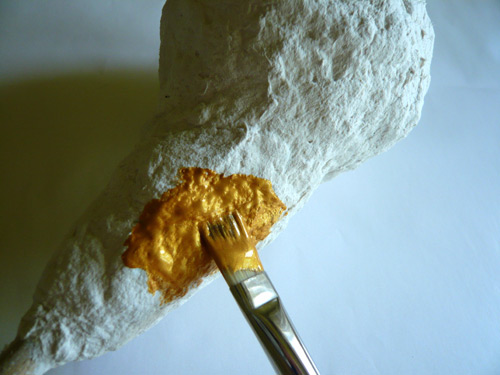 STEP 7  Once dry paint the surface of the piece with acrylic paint and allow piece to dry.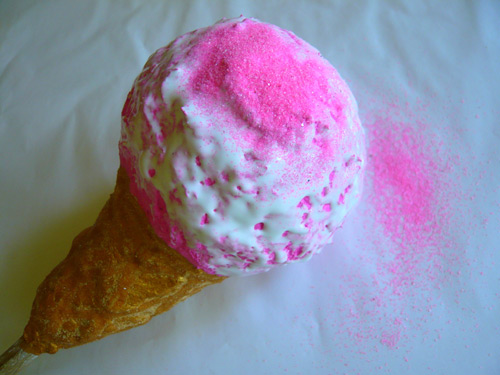 STEP 8  Then apply glue with a brush and sprinkle with Sandtastik Colored Sand. In this project I used pink and peach sand. Allow to dry.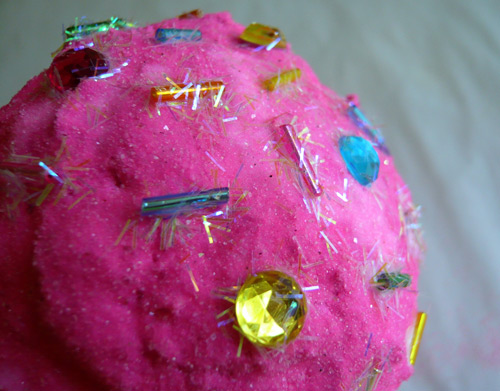 STEP 9  To finish off your piece use glue to add embellishments such as acrylic flat back gems and seed beads! Once dry you are able to enjoy your custom noisemaker and the beautiful sounds that it makes!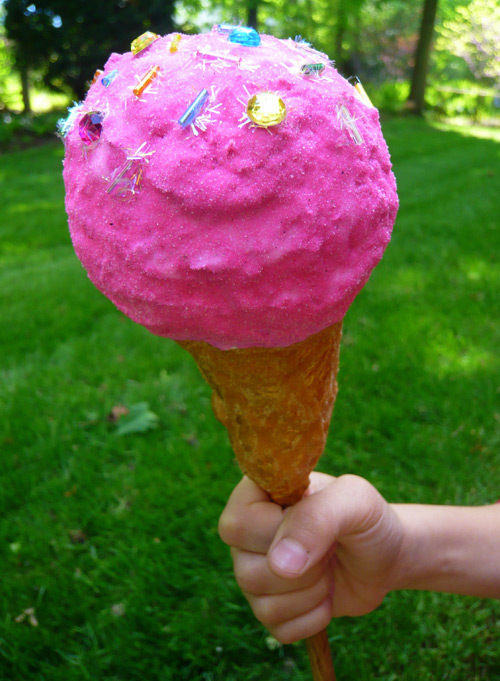 - ABOUT THE ARTIST -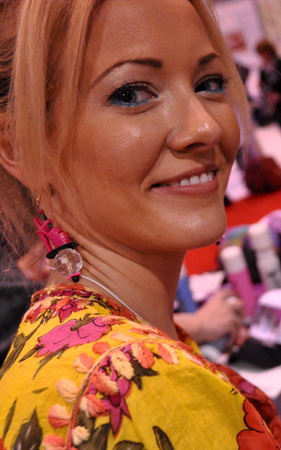 Meet celebrity crafter Marisa Pawelko, winner of the Craft & Hobby Association Indie Craft Contest and the host of "America's Next Top Crafter™". Armed with a formal education in furniture design, Marisa used her talents to design products for the gift, toy, fashion and accessories markets before turning her focus to the craft industry. In 2005, sparked with an idea to create a recycled baby memento-keeper out of one of her son's baby food jars, she founded Modern Surrealist LLC, which quickly developed an international following. Marisa enjoys inspiring crafters on her blog with thrifty project ideas for "upcycling" ordinary objects, into extraordinary custom creations! Her work has been featured by PBS, HGTV, Illinois State Museum and in countless exhibitions and high end boutiques around the world. Modern Surrealist LLC has been providing customers around the globe with individualized and fantastical gifts, crafts and accessories since 2004. Featuring eclectic themes that celebrate your individuality with humor and heart!