High Strength Plaster Premium Casting Compound - 10 lb (4.5 kg)
Availability:

In Stock, Ready to Ship

Product Code:

SAN210

Brand:
Sandtastik® High Strength Plaster (Plaster of Paris) 
Sandtastik® High Strength Plaster is a high purity, general purpose art plaster made for a wide variety of applications. Often referred to as Plaster of Paris or soft plaster, common uses include ornamental work for creating decorative, detailed pieces and arts and crafts 2D/3D sculptures. Mixing consistency can vary from 1 part plaster to 0.5 – 0.75 parts water.
MIXING
Weigh or measure both the Sandtastik® High Strength Plaster and the water using the recommended ratio. The water-to-Sandtastik® High Strength Plaster ratio is related to the strength and density of your final cast.
Plaster:Water Ratio
1 cup Plaster
0.5 - 0.75 cups Water
1 lb Plaster
0.6 - 0.85 lb Water
DRYING
Place fresh cast in a warm, dry area and allow to set. Drying time will vary due to project thickness, room temperature, etc. Average setting range is 25 – 50 minutes. Fully cured within 12 - 24 hours.
INSTRUCTIONS FOR USE
Click to view and download Sandtastik® High Strength Plaster Instructions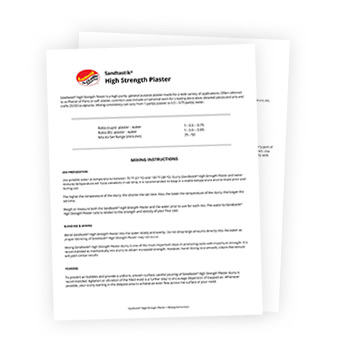 Specifications:
Color: Super White
Available in 5 lb (2.3 kg), 10 lb (4.5 kg) Pkg