Crystal Buddha Statement Necklace
By Marisa Pawelko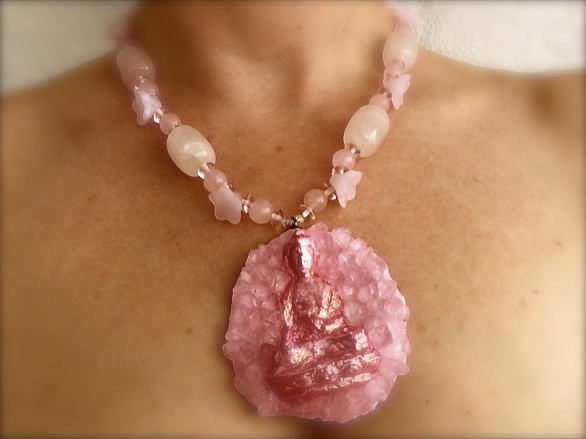 Summary:
Easily create your own wearable art with Sandtastik's amazing mold making and casting supplies! Duplicate sculptural artifacts with fine details and accent your piece with majestic Colored-ICE! Easy economical project with a very upscale and esoteric feel!
What's Needed:
Metal Artifact of Your Choice

Beads

Jewelry Findings (Beading Thread, Clasp, Jump Rings, Crimp Beads)

Acrylic Paint

Tacky Glue

Hot Glue

Water

Paintbrush

Pliers

Container for Mold

Cup for Mixing

Hot Glue Finger Guard
Begin this project by creating the mold for your nonporous exotic artifact. For this piece we worked with a little brass Buddha.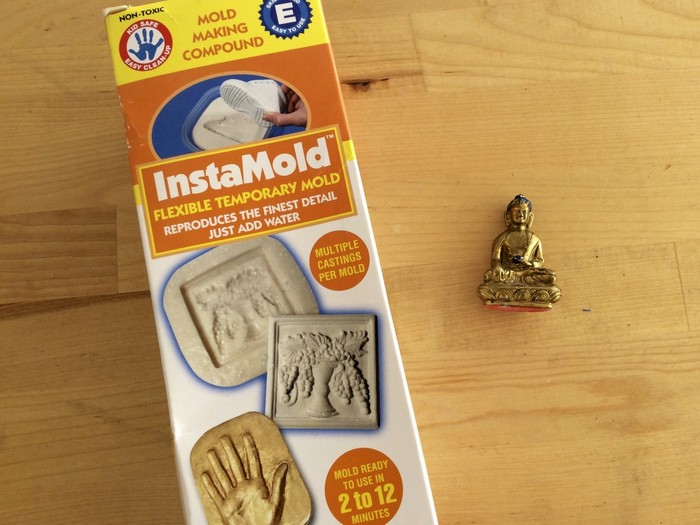 Mix up one part sifted InstaMold powder with one part warm water.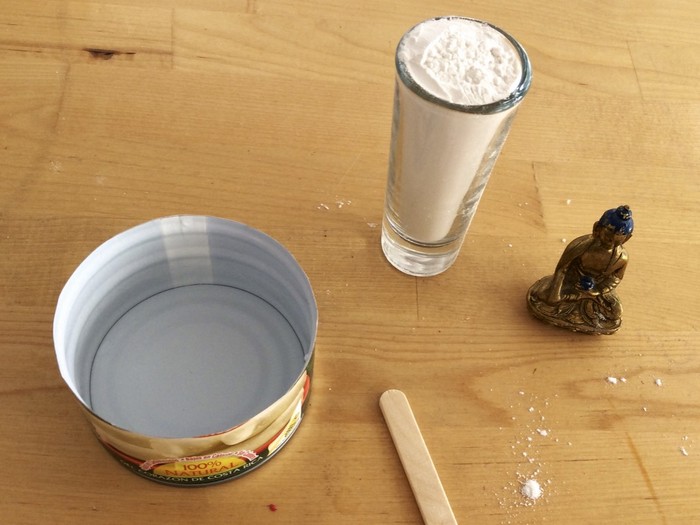 For this small mold we mixed the InstaMold directly in the bottom part of an empty can. You could also use an empty bottle or small bowl.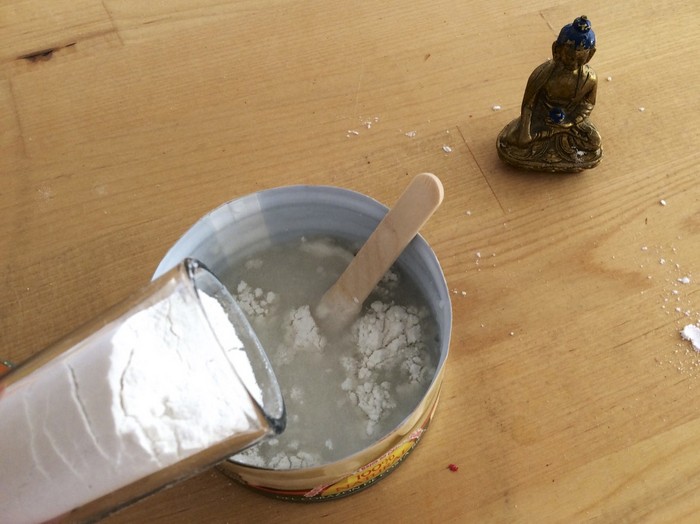 Allow InstaMold to firm up for 30-60 seconds. Then push the artifact into the InstaMold as shown.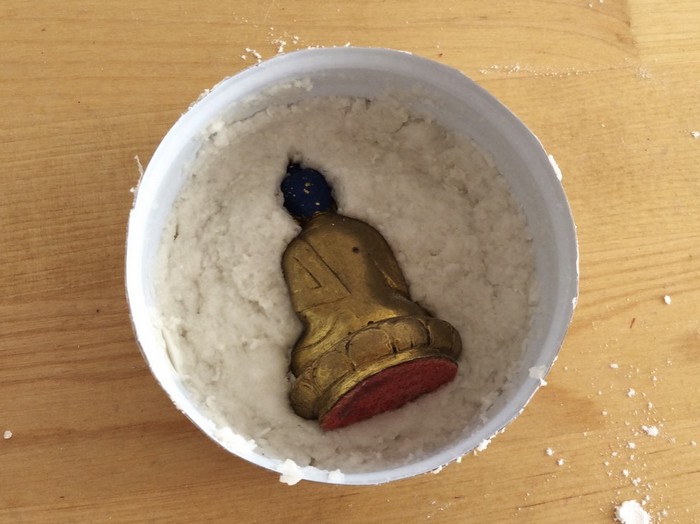 After 3 minutes, carefully remove the artifact from the mold.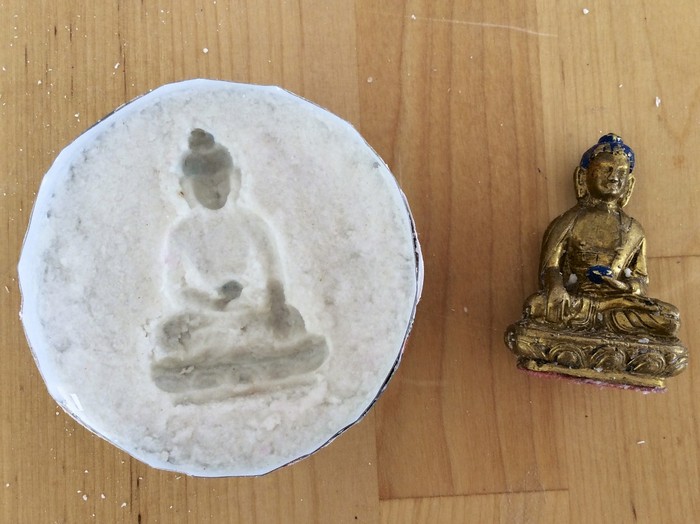 Now you are ready to begin mixing the Permastone Break Resistant Casting Material.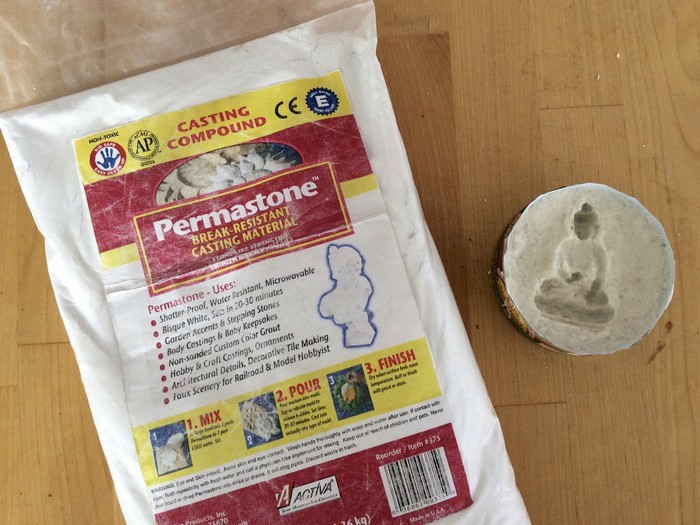 Mix 3 parts Permastone Break Resistant Casting Material with 1 part cold water.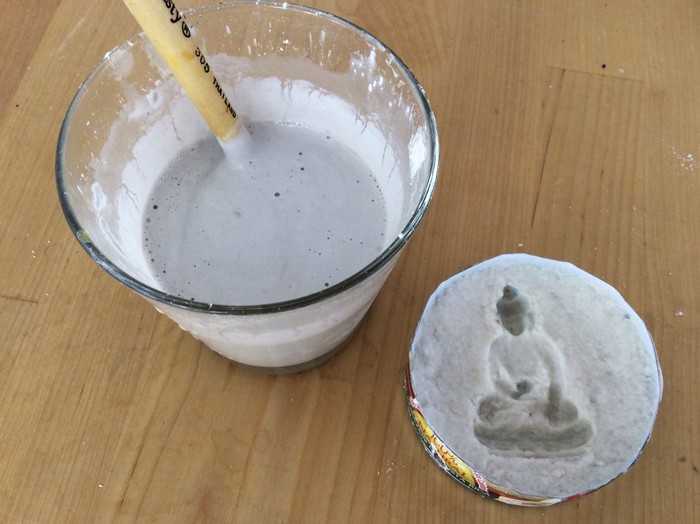 Pour the Permastone into the mold allowing some excess to pool in a round formation.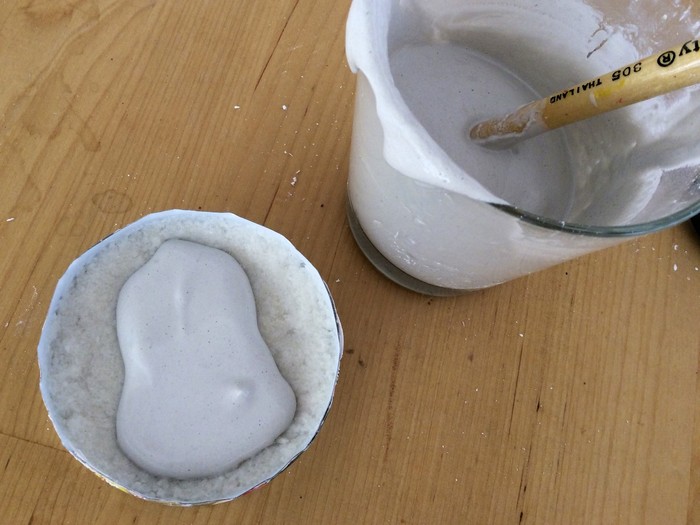 Set aside to dry. Once dry, remove the piece from the mold. Then you are ready to attach a jump ring to the back with hot glue.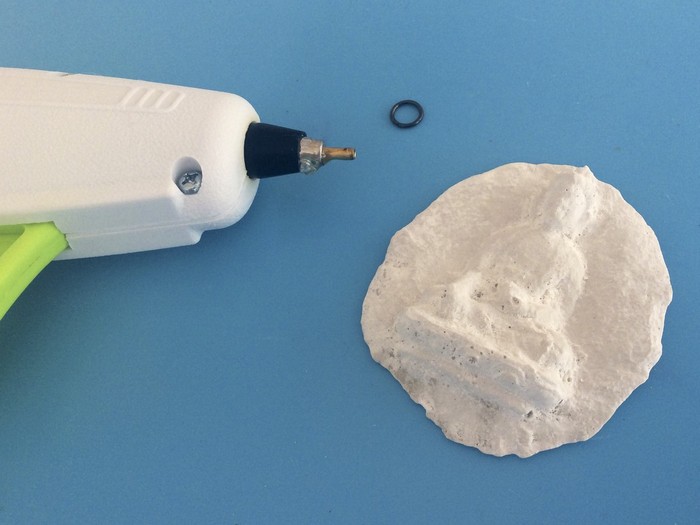 Squirt a small dab of hot glue to the back of the piece. While the glue is still liquid, position the jump ring in place. It helps to secure the jump ring in place by pressing with your finger, wearing the nonstick finger guard.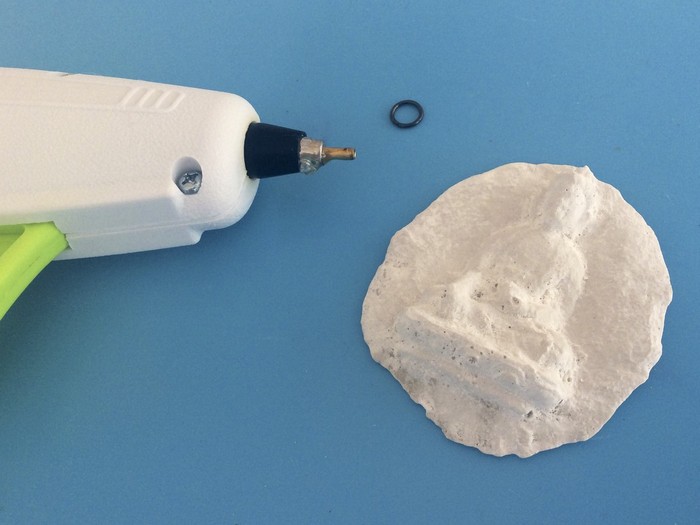 Now you are ready to begin painting your custom molded pendant! Thoroughly cover the front, back and sides of the piece with acrylic paint.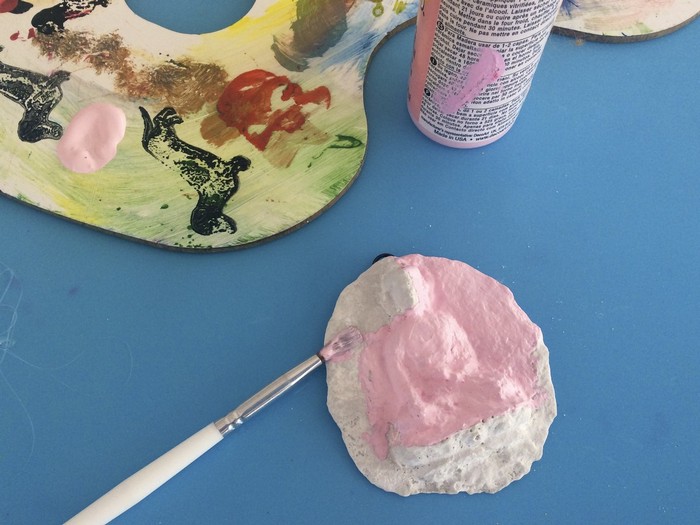 Once dry, add a layer of complementing iridescent paint to the focal point of your pendant as shown and set aside to dry.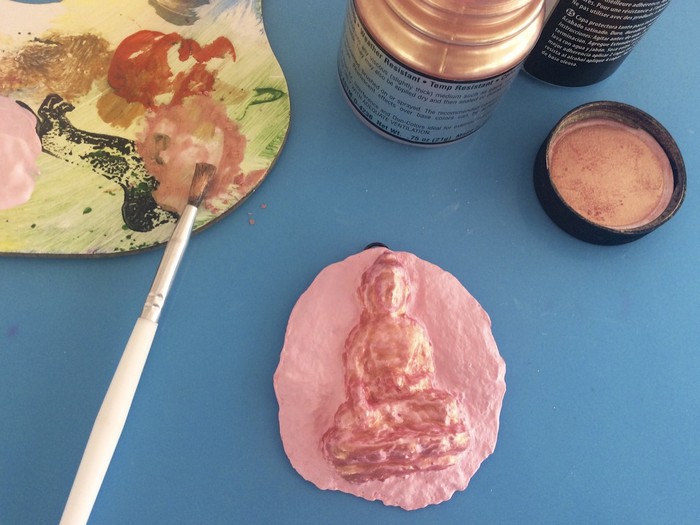 Pour the contents of the Colored-ICE onto your work surface.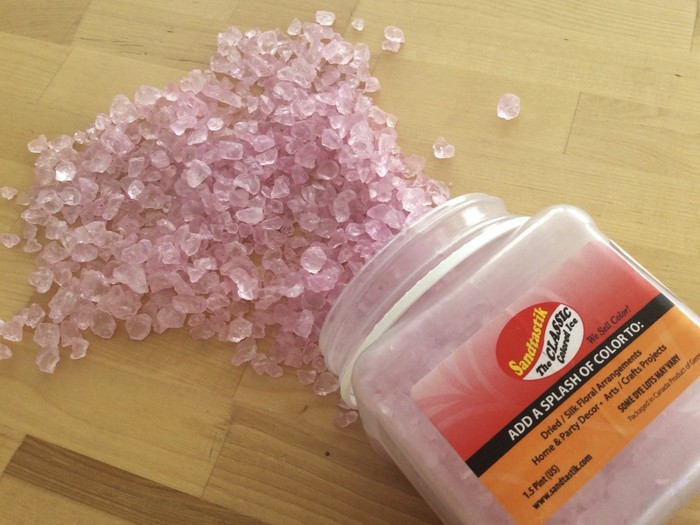 Pick out several of the smallest pieces of Colored-ICE.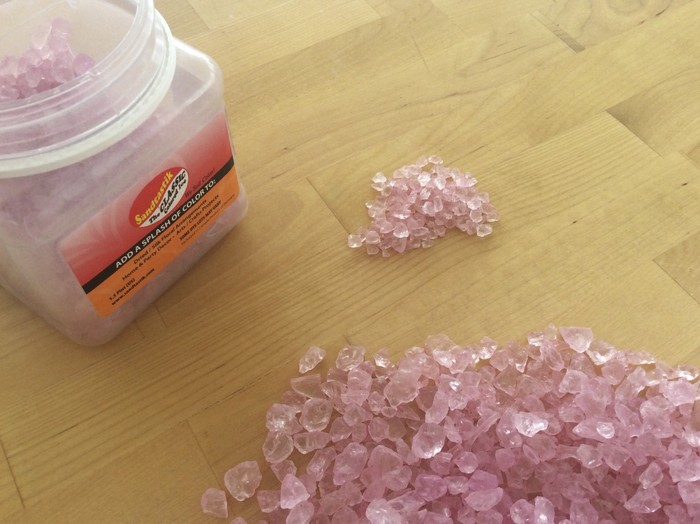 Glue the Colored-ICE to the flat area surrounding your molded design with a generous layer of tacky glue.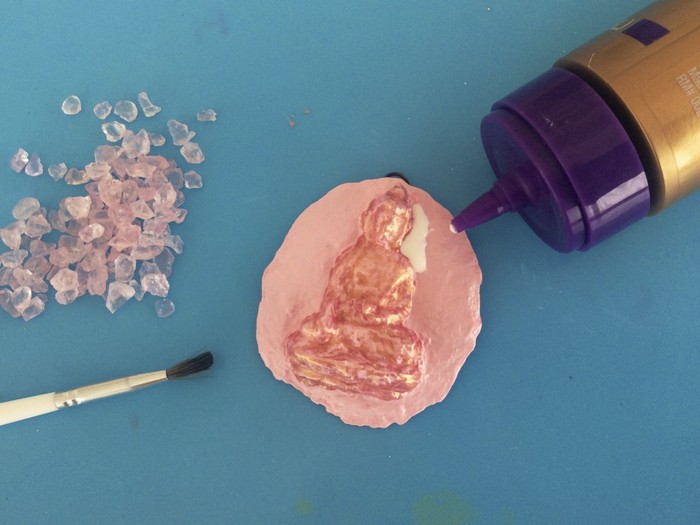 Continue this process until the entire flat area is covered.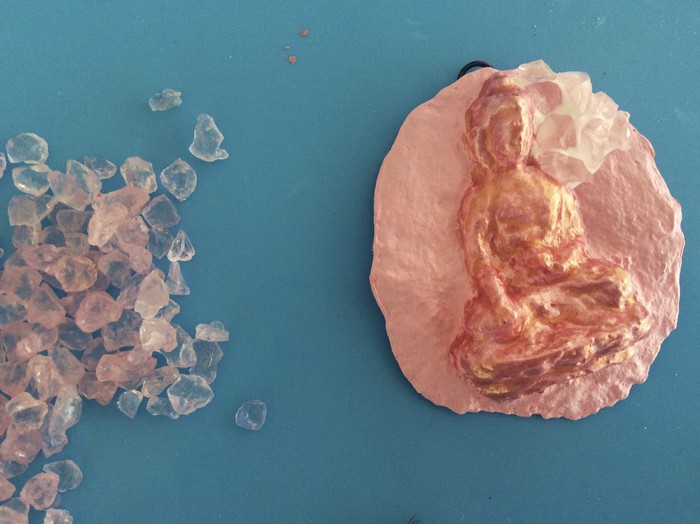 Set the pendant aside until fully dried.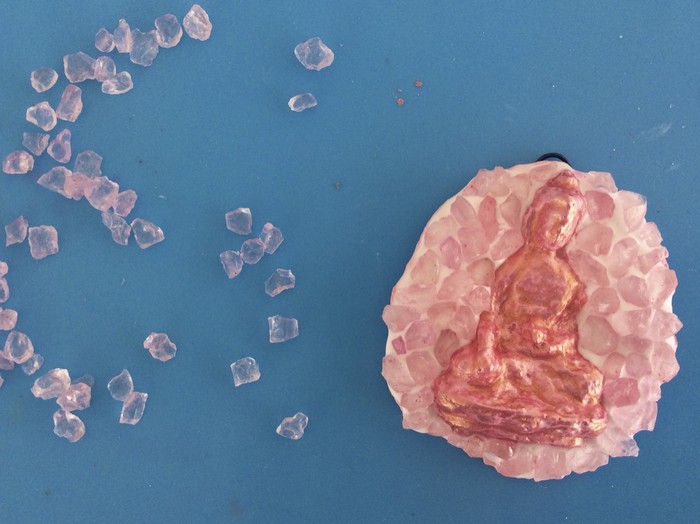 Then you are ready to begin making the necklace for your pendant. String a stand of coordinating beads and attach the clasp of your choice.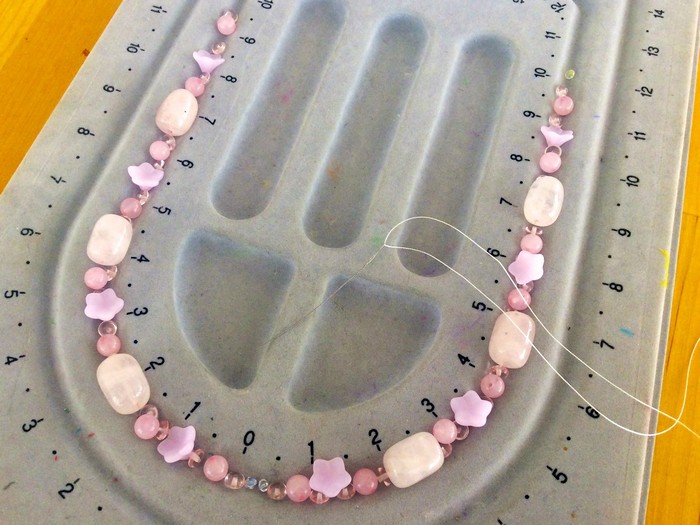 Attach the pendant in place with a jump ring and pliers.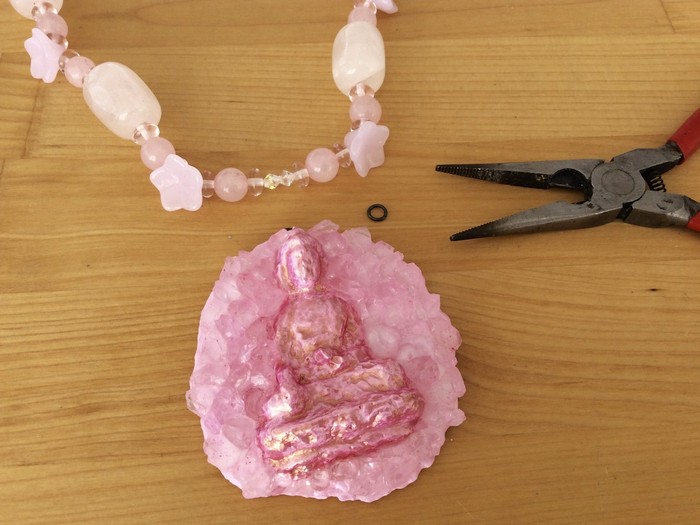 Now your exotic necklace is ready to wear!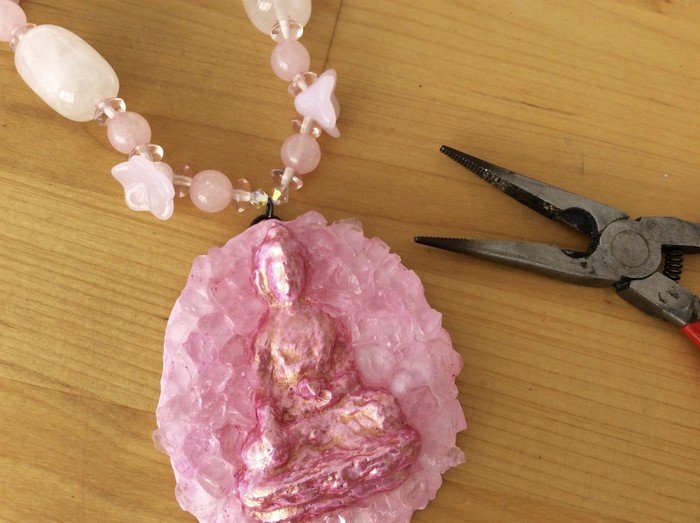 - ABOUT THE ARTIST -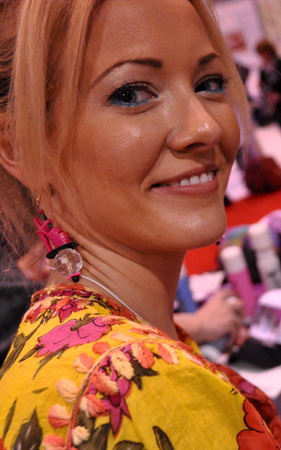 Meet celebrity crafter Marisa Pawelko, winner of the Craft & Hobby Association Indie Craft Contest and the host of "America's Next Top Crafter™". Armed with a formal education in furniture design, Marisa used her talents to design products for the gift, toy, fashion and accessories markets before turning her focus to the craft industry. In 2005, sparked with an idea to create a recycled baby memento-keeper out of one of her son's baby food jars, she founded Modern Surrealist LLC, which quickly developed an international following. Marisa enjoys inspiring crafters on her blog with thrifty project ideas for "upcycling" ordinary objects, into extraordinary custom creations! Her work has been featured by PBS, HGTV, Illinois State Museum and in countless exhibitions and high end boutiques around the world. Modern Surrealist LLC has been providing customers around the globe with individualized and fantastical gifts, crafts and accessories since 2004. Featuring eclectic themes that celebrate your individuality with humor and heart!